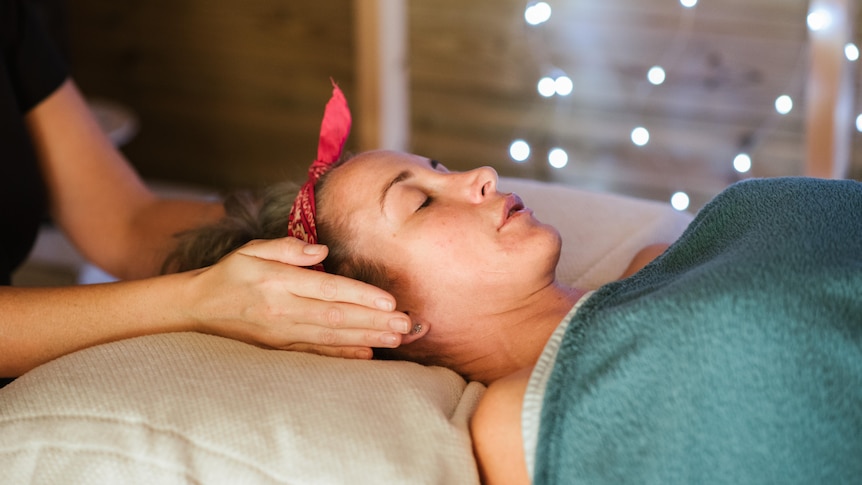 What is a lymphatic drainage facial massage and does it work?
When a few influencers started popping up in my news feed rubbing their faces with a technique I had never seen before, I wondered why all the noise had happened.
They were demonstrating facial lymphatic drainage (or facial massage) at home claiming to calm the skin by draining toxins and reducing puffiness.
Dermatologist Adrian Lim says lymphatic massage has traditionally been used in a medical sense, such as the treatment of lymphedema associated with breast cancer.
"Theoretically, because it removes excess fluid and toxins, it could also be good for your face," says Dr. Lim.
Although he adds that there is not much evidence to support this theory, Professor Neil Piller of the Lymphedema Clinical Research Unit at Flinders University has found positive results in unpublished research. in 2013.
I spoke to Professor Piller, Dr Lim and Sia Psicharis, board member of the Australian Hair and Beauty Association, to find out if lymphatic drainage facials are worth your efforts.
What is a lymphatic drainage facial trying to achieve?
Lymphatic massage is a light massage "almost like moving a pen on a table," says Psicharis, who performs lymphatic drainage elements in her facials.
"This treatment encourages the circulation of lymph … encouraging wastes and toxins to be expelled through the lymph nodes."
She says for the face, it improves circulation by providing oxygen around the skin, draining toxins, helping to reduce inflammation and puffiness, and promoting an "overall glow."
"It's like a gym workout on the face."
Dr Lim says that while he would expect massage to reduce puffiness, claims by some therapists that it can reduce fine lines and wrinkles are unfounded.
According to Professor Piller, in his study, which looked at manual lymphatic drainage to reduce bags under the eyes, the results varied greatly from person to person.
"Sometimes people have discoloration under their eyes, it can help.
"And generally speaking, this massage improves facial characteristics, such as skin health and fluid content."
Professional treatment versus home treatment (and risks)
Ms. Psicharis recommends having the facial treatment performed by a qualified professional to ensure that the correct technique is used.
There are plenty of how-to videos on YouTube if you'd like to give it a try, and Dr Lim says "you can't really do wrong."
He says at the very least, at a time when touching isn't always possible thanks to the pandemic, it could be a self-soothing practice to do at home.
"If you can make it relatively simple [massage], without harm, why not? At least you feel better.
If you have a health problem, you should consult your health care provider before undertaking this massage, at home or with a professional, explains Ms. Psicharis.
When can we expect to see results?
Clients should expect to see results immediately after treatment and in the days following, in Ms. Psicharis' experience.
"Over the next few days, I noticed fewer pockets and pimples that disappeared faster than normal."
Professor Neil says breathing exercises can also help with lymphatic drainage.
"In the case of the face, head and neck, when we don't breathe properly, fluid builds up.
"This is why these breathing exercises can sometimes help, as well as manual massage. [ourselves] or by the hands of the therapist.
How many and who?
If you're looking to see a therapist rather than performing the massage yourself, says Ms. Psicharis, while there is no facial qualification for lymphatic drainage, you should ask about their experience.
"You have to look at the reviews [online] to read the experiences of other customers. "
She says you can expect to pay anywhere from $ 120 to $ 220 for an hour-long facial.
This is only general information. For detailed personalized advice, you should consult a qualified physician who is familiar with your medical history.
Daily ABC in your inbox
Receive our newsletter for the best of ABC Everyday every week